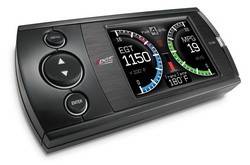 Click on image to zoom
Edge Products 85100 CS Diesel Evolution Programmer
Edge Products 85100 CS Diesel Evolution Programmer
Please Call for Availability
636-946-8554
Description
Edge Products - CS Diesel Evolution Programmer P/N 85100 Features:
Full-Color; High-Resolution 2.4 Inch Screen
User Friendly Buttons
Easy To Navigate Menu
Auto Adjusting Light Sensitivity Meter
Up To 100 HP And 210 ft lb Torque
Product Documents:
Below is an abbreviated list of applications for the CS Diesel Evolution Programmer.
2500, 3500, 4500, 5500, C3500HD, E Super Duty, E-350, E-350 Club Wagon, E-350 Econoline, E-350 Econoline Club Wagon, E-350 Super Duty, E-450 Econoline Super Duty, E-450 Econoline Super Duty Stripped, E-450 Super Duty, E-450 Super Duty Stripped Chassis, E-550 Econoline Super Duty, E-550 Super Duty, Econoline Super Duty, Excursion, Express 2500
Manufacturer
Founded in 1999, Edge Products has become the premier name for aftermarket performance electronics. Initially, the company was built on its efforts to produce performance electronics for diesel-powered trucks. Over the years, however, Edge has expanded its offerings to include cutting-edge products for the gas, truck, and Jeep markets. Edge has been named three times to the Inc. 500's fastest growing privately held companies, and was noted as Utah's fourth fastest growing company between 1999 and 2004. Edge currently employs more than 100 individuals and resides in a 40,000 square foot facility in Ogden, Utah. Edge produces modules and programmers for all major vehicle manufacturers, including Ford, Chevy, Dodge, Jeep, and RV under the following brands: the A2, Juice, Attitude, Evolution, EZ, Insight, Mileage Max, and Trail Jammer. Since its inception, Edge has been known for the power its modules and programmers produce. However, what sets the company apart from its competitors is its monitoring capabilities. Coupled with the additional gains in horsepower, Edge's ability to display multiple engine parameters - and to provide associated safety features for those parameters on its stylish in-cab monitors - has revolutionized the industry. Edge endeavors to produce the highest quality products on the market and to deliver them with superior customer and technical support. On March 31, 2006, became a part of the MSD Performance Family (Which includes MSD Ignition, Superchips and Racepak). Edge, however, will remain in Ogden and will continue to operate as its own entity.
Details
4087728 - 85100

4087728
85100
810115010562
New
Shipping Information
Item Requires Shipping
2.0 lbs.
W6.2500" x H4.0000" x L9.5000"
Free Shipping for orders over $99.00
Customer Reviews
Total Reviews (0)
You must login to post a review.
---