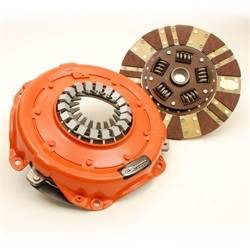 Click on image to zoom
Centerforce DF810739 Dual Friction Clutch Kit
Centerforce DF810739 Dual Friction Clutch Kit Size 10.4 in. - 18 Spline By 1 3/16 in. - Incl. Pressure Plate/Clutch Disc/Alignment Tool - Does Not Incl. Throwout Bearing
Please Call for Availability
636-946-8554
Description
Centerforce - Dual Friction Clutch Kit P/N DF810739 Features:
Up To 90% Increase In Holding Capacity Over OEM
Use w/Engines Producing High Horsepower Output
Use w/Engines Producing High Torque Output
Provide Smooth Engagement and Light Pedal Pressure
90 Day Warranty
Product Documents:
Below is an abbreviated list of applications for the Dual Friction Clutch Kit.
Barracuda, Belvedere, Challenger, Charger, Coronet, Fury, GTX, Road Runner, Satellite, Dodge, Plymouth, 1971, 1970
Manufacturer
Midway Industries Centerforce division is proud to be recognized as the leading manufacturer of performance clutch and pressure plate systems in the United States. Centerforce's reputation as the clutch system of choice stretches back to the early 1980's when legendary Hot Roder and SEMA Hall of Fame member, Bill Hays sought to cure problems with existing designs while developing a competition-rated clutch/pressure plate system suitable for use with non-asbestos friction facings. Bill's remarkable innovation was soon patented as the Centerforce Weighted Clutch System. The Centerforce design applies proven principles of weight and centrifugal force to develop the increased clamping loads modern clutch facings require while maintaining easy pedal effort and eliminating old-style diaphragm "over-center" problems disastrous to high-performance engines. Continuous development and improvement of product offerings is reflected in the unique features of the Centerforce clutch line being protected under nine separate (9) U.S. patents. Today, Centerforce has over 1700 different non-asbestos clutch/pressure plate applications available to the automotive enthusiast. First and foremost, Midway Industries and Centerforce are proud to be a three-generation family owned business, World headquartered and manufacturing exclusively in Prescott, Arizona, committed to create the highest quality and most innovative products available. Centerforce clutch systems are the performance enthusiast's first choice and can be found on leading OEM and customized vehicles worldwide.
Details
5319817 - DF810739

5319817
DF810739
788442027792
New
Shipping Information
Item Requires Shipping
23.4 lbs.
W14.0000" x H4.0000" x L14.0000"
Free Shipping for orders over $99.00
Customer Reviews
Total Reviews (0)
You must login to post a review.
---