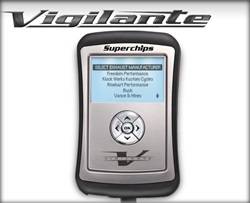 Click on image to zoom
Superchips 5842 Vigilante EZ Hand Held Tuner
Superchips 5842 Vigilante EZ Hand Held Tuner Harley Davidson - 6 Pin Connection - 2001 And Newer Delphi Injected Engines
Please Call for Availability
636-946-8554
Description
Superchips - Vigilante EZ Hand Held Tuner P/N 5842 Features:
Vigilante EZ Hand Held Tuner
Below is an abbreviated list of applications for the Vigilante EZ Hand Held Tuner.
FLD Switchback, FLHR Road King, FLHR/I Road King, FLHRC Road King Classic, FLHRCI Road King Classic, FLHRI Road King, FLHRS Road King Custom, FLHRS/I Road King Custom, FLHRSE3 Screamin Eagle Road King, FLHRSE4 Screamin Eagle Road King, FLHRSE5 CVO Road King, FLHRSE6 CVO Road King, FLHRSEI Screamin Eagle Road King, FLHRSEI2 Screamin Eagle Road King 2, FLHRSI Road King Custom, FLHT Electra Glide Standard, FLHT/I Electra Glide Standard, FLHTC Electra Glide Classic, FLHTC/I Electra Glide Classic, FLHTCI Electra Glide Classic
Manufacturer
Performance. Bang for your buck. Flexibility. Tire smoking. Fuel economy. Better towing. Information. More features than the other guys. We know what you want, and Superchips is the solution. We deliver specialized performance and features for your vehicle. Holy Crap performance. The kind of performance that leaves you asking, is this legal? Barely. The kind of performance you can't live without once you've experienced it. And the kind of quality and support that leaves you with no regrets. Superchips offers the broadest vehicle coverage, so you're more likely to find what you're looking for here than anywhere else. But one size definitely does not fit all. Our engineering teams develop solutions specific for each vehicle. You don't get 25 years in the business by delivering mediocre products. Superchips is simply the best-selling brand in the business. All of our products are easy to use, flexible and easy to update when you want to. Click on one of the tabs to the left to learn what Superchips can do for you.
Details
5617451 - 5842

5617451
5842

853118003582

New
Shipping Information
Item Requires Shipping
1.0 lbs.
W5.0000" x H2.5000" x L6.0000"
Free Shipping for orders over $99.00
Customer Reviews
Total Reviews (0)
You must login to post a review.
---