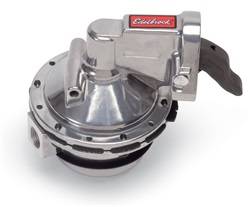 Click on image to zoom
Russell 1711 Victor Series Racing Fuel Pump
Russell 1711 Victor Series Racing Fuel Pump 6 Valves - Flow Cap 130 GPH - 10 psi - Requires External Fuel Pressure Regulator - Small Block Chevy - Gas Only
Please Call for Availability
636-946-8554
Description
Russell - Victor Series Racing Fuel Pump P/N 1711 Features:
Hi-Vol 0.5 in. NPT Inlet/Outlet
Large Alcohol-Proof Diaphragm
Aircraft-Type Allen Bolts
Produces 10 psi
For Gasoline Only
Finest Quality Material
Beautifully Detailed
Use w/Fuel Pressure Regulator PN[8190]
Below is an abbreviated list of applications for the Victor Series Racing Fuel Pump.
100, 100 Pickup, 100-22, 100-22 Pickup, 1000 Series Pickup, 150, 150 Pickup, 150-22, 150-22 Pickup, 1500 Series Pickup, 250, 250 Pickup, 250-22, 250-22 Pickup, 2500 Series Pickup, 280-22, 300, 3000 Pickup, 350-8, 3500 Pickup
Manufacturer
Edelbrock Corporation has six locations: four in Torrance and two in San Jacinto, California, totaling over 600,000 square feet. Headquarters include: R&D; manufacturing; tech support and more. Less than a mile away the Exhaust and Suspension Division design and manufacture high quality components using custom built equipment and state-of-the-art testing facilities. Our Aluminum Foundry and Motorcycle Division, where we manufacture carburetors for motorcycles, is located in San Jacinto. Our sand-cast foundry has been called "the most state-of-the-art foundry west of the Mississippi." In 2007 we will be adding a new Permanent Mold and Heat Treat facility next to our existing sand cast foundry, an over 8 million dollar commitment to "Made in USA" products and performance. In October 1999, we moved our warehouse into a new Distribution Center. All shipping and receiving operations were relocated to provide room for the expansion of our cylinder head, water pump and manifold manufacturing area at the main facility. Vic's Garage is located in the Distribution Center and houses the Company's collection of street rods and classic cars, as well as our extensive collection of historic photos and archives. Please call and make an appointment if you would like to tour Vic's Garage. Russell Performance Products became part of the Edelbrock family early in 2001. They were moved to the shock facility in the spring and we are pleased to welcome the Russell employees to "The Fun Team." Into the Future, "Proven Performance" is the philosophy that began with Vic Sr. in 1938 and it continues today with the same high standards of performance and quality. Vic Sr. would be proud of what has grown out of his small garage in Los Angeles, California.
Details
5550577 - 1711

5550577
1711
085347017119
New
Categories
Shipping Information
Item Requires Shipping
2.2 lbs.
W4.3600" x H4.6300" x L9.6300"
Free Shipping for orders over $99.00
Customer Reviews
Total Reviews (0)
You must login to post a review.
---