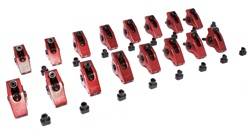 Click on image to zoom
Competition Cams 1052-16 Ford Pedestal Mounted Rockers Roller Rocker Arms
Competition Cams 1052-16 Ford Pedestal Mounted Rockers Roller Rocker Arms 16 pc. - Stud 5/16 in. Ratio 1.6
Please Call for Availability
636-946-8554
Description
Competition Cams - Ford Pedestal Mounted Rockers Roller Rocker Arms P/N 1052-16 Features:
High Quality Extruded Aluminum
Fully Rollerized At Tip
Fully Rollerized Trunion
Adjustable Pushrod Seats
Bolt On Simplicity
Delivers Extra Horsepower
1 Year Limited Warranty
Below is an abbreviated list of applications for the Ford Pedestal Mounted Rockers Roller Rocker Arms.
Bronco, Capri, Colony Park, Comet, Continental, Cougar, Country Squire, Custom 500, E-100 Econoline, E-100 Econoline Club Wagon, E-150 Econoline, E-150 Econoline Club Wagon, E-250 Econoline, E-250 Econoline Club Wagon, E-350 Econoline, E-350 Econoline Club Wagon, F-100, F-150, F-250, F-350
Manufacturer
COMP Cams manufactures truly superior hydraulic and solid flat tappet, hyd and mechanical roller, and overhead camshafts for everything from OE replacement to full race, designed and manufactured using cutting-edge technology and the finest engineering in the industry. Whether your engine is naturally aspirated, or you run nitrous, or a supercharger or turbo, our cams make more horsepower than any other. Looking for that ultimate hard-hitting muscle car idle? Check out our aggressive new Thumpr Cams. Match our camshafts up with our competition-grade lifters, valve springs, timing sets, and other supporting components, and you'll experience the ultimate in race-winning reliability!
Details
137229 - 1052-16

137229
1052-16
036584291299
New
Categories
Shipping Information
Item Requires Shipping
8.5 lbs.
W4.0000" x H3.7500" x L13.0000"
Free Shipping for orders over $99.00
Customer Reviews
Total Reviews (0)
You must login to post a review.
---